Industrial soundproofing & building acoustical insulation
The fight against noise, in relation to the protection of workers and the preservation of environment in general, and the limitation of noise emissions in the sector of energy in particular, make necessary actions of prevention and sometimes of reduction of nuisances.
The test of noisy equipments as well as the research and development in the matter of acoustics, and in particular the development of equipment sufficiently silenced or having a particular sound design make use of specific testing rooms.
Acoustic comfort in buildings requires the implementation of appropriate construction systems.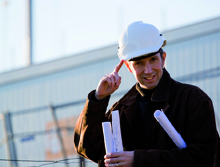 ITS assists you in finding acoustic insulation solutions involving the design and the supply of soundproofing equipment and/or their turnkey installation.
ITS welcomes you to this site dedicated to the means of preserving and beautifying our auditory environment.