Industrial soundproofing & sound insulation in buildings
The fight against noise, in relation to the protection of workers and the preservation of environment in general, and the limitation of noise emissions in the sector of energy in particular, make necessary actions of prevention and sometimes of reduction of nuisances.
The test of noisy equipments as well as the research and development in the matter of acoustics, and in particular the development of equipment sufficiently silenced or having a particular sound design, make use of specific testing rooms.
Acoustic comfort in buildings requires the implementation of appropriate materials and construction systems.
ITS assists you in finding acoustic insulation solutions involving the design and the supply of soundproofing equipment and/or their turnkey installation.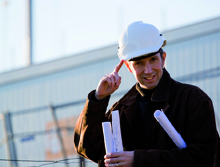 Measurements, studies (including calculations & sizings) and works in the field of industrial soundproofing and sound insulation of buildings: all technologies and all services are marketed by ITS for an effective treatment (guaranteed results) of the problems related to noise limitation and to the creation of choice soundscapes, everywhere.
Engineering & software publishing, representation, linkage: the quality management system for the technical and commercial services of ITS in the field of acoustical insulation is certified as being in compliance with the requirements of standard ISO 9001.
Your visit as an internaut may be motivated by the search for a supplier, in the context of a soundproofing project for which an acoustic regulation (or a specification, a standard) is applicable (of which the consideration is wished e.g. to avoid a nonconformity such as too considerable sound emission, exposure to excessive noise, nuisance of neighborhood, premise unsuitable for its foreseen use due to a lack of acoustic performance indicators satisfying appropriate criteria), or else still as part of a spontaneous step of improvement of a situation: prevention of noise pollution or upgrading of acoustic comfort (industry, building, environment).
ITS welcomes you to this site dedicated to the means of preserving and beautifying our auditory environment.